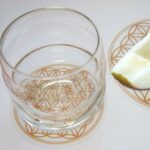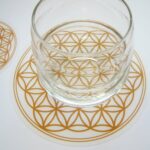 "Flower of Life" Coaster acrylic 9,5-14cm gold / brown
7,00 € – 15,00 €
Includes 19% MwSt.
Delivery Time: approx. 2-3 working days
Description

"Flower of life" coasters made of acrylic, thickness: approx. 1mm, colour: transparent / gold / brown, sizes: Ø 9,5 (4 pieces) and 14cm (motifs slightly smaller), also in value set

These inexpensive coasters are suitable for a wide variety of applications at home (in the vegetable compartment of the refrigerator, under potted plants, as a "charging station" in the kitchen, and place everything on it for at least 4 minutes: Dog food, globolies, drinks,…) and for on the go. They are made of transparent acrylic with the "Flower of Life".

Dishwasher safe!