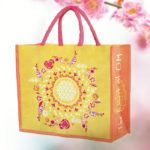 Jute bag "Flower of Life" yellow orange pink by The Spirit of OM
15,95 €
Includes 19% MwSt.
Delivery Time: approx. 2-3 working days
Description
Wonderfully colourful high-quality jute bag "Flower of Life" by "The Spirit of OM", colour: yellow orange pink, size: 33 x 40cm

Material: 67% jute, 26% cotton, 7% LDPE-coating, (produced under the fair and strict guidelines of the ETI-Basecode (Ethical Trading Initiative) – produced in India

With wipeable inner coating!

This popular jute bag is beautiful and sturdy.