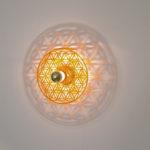 INFEA®-lamp "TaoLight pur Orange Purity Flower of Life" – in 2 sizes
109,00 € – 149,00 €
Delivery Time: approx. 2-3 working days
Description

INFEA®-lamp "TaoLight pur Orange Purity Flower of Life", acrylic, sizes: Ø 26 and 39cm (projection approx. Ø 42 and 65cm – made for you in Germany
&nbsp,
This beautiful lamp is designed to be permanently mounted on the ceiling or wall. The light play with the flower of life on the ceiling or wall adds to the effect.

In a box or in the hand, the ornament looks almost mundane, but on the wall or on the ceiling – and best of all still switched on – it spreads its magic…

The "INFEA® -Lamp "TaoLight pur Orange Purity Flower of Life" made of pure white acrylic glass, shimmers discreetly and fits into every modern ambience. You can choose to mount either the glossy or the satin side as the visible side. When switched on, the material seems to shine by itself.
&nbsp,
The luminaire is supplied with a head-mounted incandescent lamp with 60W consumption, soon also optionally with a corresponding LED. The luminaire is 100% dimmable (dimmer not included), which is recommended.

Wonderful lighting effects!