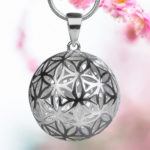 Sphere-Flower of Life 925 Silver
49,00 €
Includes 19% MwSt.
Delivery Time: approx. 2-3 working days
Description
Sphere-"Flower of Life", 925 silver, about 22 x 22 x 22mm, this pendant is a sphere, three- dimensional crafted, a miracle of craftsmanship.
The structuring encasement of space with the structure of the "Flower of Life" reflects the healing and blessing of our social environment. This connects us with the fundamental pursuit of harmony of creation.
The "Flower of Life" in 3D!