Be inspired – experience the power of symbols!
Our stand programme with a free offer for you
Browse undisturbed, enjoy good and insightful advice, give yourself and others something special – that's what the INFEA stand is known for. Many products come from our own production. Let yourself be enchanted by finely crafted symbol jewellery, symbols for therapeutic work, wall jewellery made of stainless steel and wood, ceiling and wall lights, stickers, specialist literature, coasters for water harmonisation, tensors, organic textiles and bedding with rose quartz, belts and much more! –
In addition, take advantage of our free and competent advice! As an application specialist for high vibrational symbols, we put our extensive knowledge at your disposal. At this point: Many thanks to our great customers who share their personal experiences with us! Try out for yourself what a pendant with the Flower of Life, the Tree of Life, the MerKaBa or the Crop Circle Angel can do for you.
Find out which symbol supports you personally in your everyday life, promotes your growth or which "Flower of Life" stainless steel disc can be useful for your personal healing work or for energetic cleansing and room harmonisation. We are happy to support you in finding the most powerful symbol for you.
Our free lectures at the fairs are about "Growth, Healing, Protection and Universal Order through High-Vibrational Symbols". For example, you will learn how to use the powerful symbols of Sacred Geometry for physical ailments, to work through deep-seated processes and to raise your vibration. Material and size make a difference!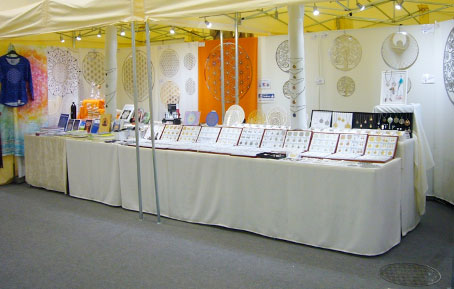 Always up to date, even in these times – we look forward to seeing you! Stay healthy and positive!
______________________________________________
INFEA trade fair dates 2023
20-22 January 2023 | Leipzig
Natural Healing Days and Esotericism Fair | Details
_____________________________________________
11/12 February 2023 | Chemnitz
Balance & Spirit | Details
______________________________________________
17-19 February | Berlin
Esotericism Fair | Details
______________________________________________
05 March | Gelsenkirchen
Wellbeing day | Details
______________________________________________
17-19 March 2023 | Cologne
Esoteric Fair | Details
______________________________________________
18-20 April 2023 | Hamburg
Joie de Vivre Fair | Details
______________________________________________
22-23 April | Bergisch Gladbach
NatureHealing Days & Spirituality | Details
______________________________________________
06-07 May 2023 | Merzig/Saarland
Holistic Health Days | Details
______________________________________________
And organised by us:
19/20 August 2023 | Möhnesee/Soest
9th Möhnesee Fair for Health, Spirituality & Encounter | Details
______________________________________________
01-03 September | Magdeburg
Natural Healing Days and Esotericism Fair | Details
______________________________________________

08-10 Septembre 2023 | Cologne
Esoteric Fair | Details
______________________________________________
08-10 Septembre 2023 | Darmstadt
Schirner days | Details
______________________________________________
15-17 Septembre 2023 | Berlin
Esotericism Fair | Details
______________________________________________
01 Octobre 2023 | Gelsenkirchen
Esoteric Day | Details
______________________________________________
06-08 Octobre | Mannheim
Esotericism Fair | Details
______________________________________________
14/15 Octobre 2023 | Hannover
Esotericism Fair | Details
______________________________________________
21/22 Octobre 2023 | Bergisch Gladbach
NatureHealing Days & Spirituality | Details
______________________________________________
17-19 Novembre 2023 | Hamburg
Joie de Vivre Fair | Details